VoIPon are pleased to confirm that, WhichVoIP, one of the most trusted Voice over IP authorities, has awarded the Yealink W52P Business HD IP DECT Phone with a favorable star rating.
Noting that the W52P is small, light, but well and attractively designed as an indoor office phone, WhichVoIP says the cordless DECT handset is 'invaluable for its ability to stay on your body at all times'. The base unit is small, may be wall-mounted and can connect to five handsets, each able to handle five different VoIP accounts.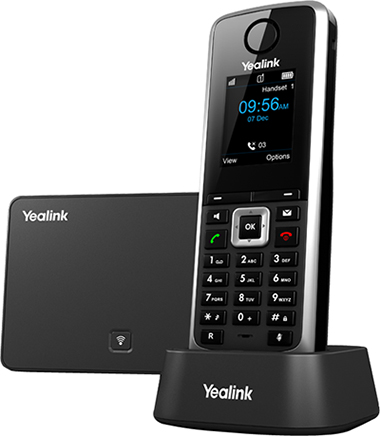 Intuitive use
WhichVoIP goes on to approve many other features. Setup and registry are 'very easy' via the web management console, it says. Auto provisioning is optional. Phone navigation is 'very intuitive'. Accessing the directory is straightforward. HD technology (High Definition) makes a noticeable difference with internal and external calls.
Long battery life
A battery life of 10 hours supports long days in the office, even without lunchtime recharging. Handset range is impressive and practical. A specification indoor range of 164ft (50 metres) and 984ft (300 metres) outdoors can be extended using DECT repeaters.
Ethernet power
The base station is energized by Power over Ethernet (PoE), with an auxiliary power supply provided. The W52P base has just one port. However, wireless use allows it to be positioned discreetly near a router.
Tactile button response
As a handheld device, screen-size is inevitably small, says WhichVoIP, but compensated for by the 'tactile response of buttons'. Not having to reboot to make changes is a very welcome feature.
Ideal choice
The review concludes that 'those constantly on the move within their place of work may find this to be the ideal business phone …'
WhichVoIP.com, founded in 2005, is an internationally-respected Voice over IP commentator. It produces a high-level stream of authoritative articles and white papers and carries thousands of user and editor's reviews.
Which is why Yealink is delighted to have received an overall 4.7 star rating when the W52P's performance, voice quality, features, installation, durability and ease of use are taken into account.
Share this story with your friends or work colleagues. If you want to stay up to date with our latest products, industry news and offers you can sign up to our monthly newsletters, keep up to date with us on Facebook or follow us on twitter @VoIPon.