Telephony is all about hearing, and being heard.
High quality, clear audio is vital for effective telephone communications. Using high quality, wideband codecs is necessary, but not sufficient to guarantee clear, intelligible conversations. The whole signal path must be designed with quality in mind.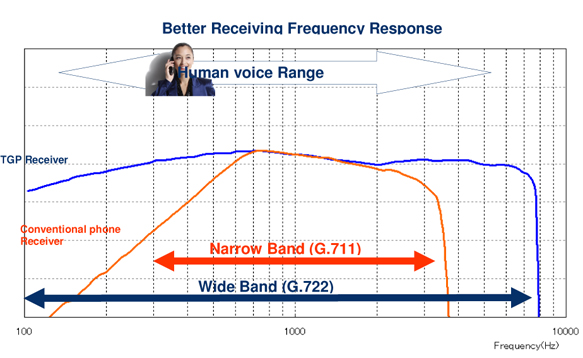 Moreover, the KX-UT series supports the wideband G.722 codec on all models, but that isn't enough. In order to provide "best in class" audio quality, Panasonic has designed the entire SIP terminal range with enhanced loudspeakers and carefully crafted acoustic chambers to ensure a wide frequency response, while advanced filter design ensures that every word is reproduced faithfully. The outcome is clear, natural sounding voice reproduction, even under poor network conditions.
This excellent audio quality is maintained whether you use the built-in handset, the high quality speakerphone or an external wireless headset such as the Plantronics Voyager range – the KX-UT series ensures fewer misheard calls, less repetition and better communication.
Panasonic KX-UT series SIP terminals – Make yourself heard.
For more information on the Panasonic KX-UT SIP Phone Terminal range, please visit the respective models' product page:
Panasonic KX-UT SIP Phones Comparison Table

KX-UT113

KX-UT123

KX-UT133

KX-UT136

KX-UT248

KX-UT670*
Display
LCD Display

Monochrome Graphical

Greyscale Graphical
Colour 256k
LCD Size
242 x 55 pixels – 3 lines
242 x 109 pixels – 6 lines
4.4 inch
7 inch touch
LCD Contrast
6 levels
No
LCD Backlight
None
On/Off/Auto
15/Auto
HD Video
No
720p
Install Options
Desk Mount Tilt
No
Yes – 2 positions
Wall Mount
KX-A432 (optional)
KX-A433 (optional)
KX-A434 (optional)
Power Adaptor
KX-A239 (optional)
KX-A422 (optional)
Networking
Ethernet Ports
1 – 10/100
2 – 10/100
2 – 10/100/1000
Power Over Ethernet
Yes
Bluetooth
No
Yes
Optional
Audio Features
Handset, Speaker, Headset Voume
8 levels (includes echo cancellation and distortion prevention)
15 levels
Ringtones
32
Ringer Volume
6 levels + Off
7 levels + Off
Headset Port
2.5mm
Electronic Hook Switch Control Port
None
3.5mm Plantronics Compatible
Audio Codec
G.711, G.722, G.726, G.729a
G.711, G.722, G.729a
Keys
Soft Keys
Yes – 4
Yes – Screen
Programmable Keys
0
24
24
( 3 pages of 8 )
24
( 4 pages of 6 )
0-9, *, # Keys
Yes
Yes – Screen Keys
Nav & Cancel Keys
Yes
On Screen + Menu Keys
Software Features
Phone Book (Entries)
100 – 5 numbers each
500 – 5 numbers each
Depends on Memory**
Call Log Entries
None
30 incoming + 30 outgoing
100 in + 100 out
Conferencing
3 parties with terminal – multi party dependent on server
XML
XML Application Support from Q1 2012
Music On Hold
Supplied by host service (PBX/SIP Server)
IP Features
SIP Accounts
2
4
6
SIP Compatibility
RFC 3261 Standard SIP Server, Asterisk, Broadsoft, Panasonic SIP PBX
IP Version
IPv4
DHCP Client
Yes
DNS
Yes
HTTP
Yes
HTTPS
Yes
SNTP Client
Yes
VLAN (802.1q)
Yes
QoS (DiffServ)
Yes
802.1x
No
Yes
Configuration
Plug & Play Config.
Server based configuration, TR-069, Panasonic Redirect Server
Manual Config.
Internal with Configurator, Local (LCD based) network configuration
* – Preliminary Specifications
** – Up to 500 connected to NS1000