The Redfone VGate is a ©VMWare compatible turn-key software appliance. When combined with Redfone foneBRIDGE2 hardware it quickly and easily provides a complete T1/E1 to SIP gateway with advanced SIP features including SIP load balancing and auto fail-over to provide always on capabilities.
With the VGate Upgrade, Redfone customers can now easily migrate their Asterisk, Elastix, Trixbox, FreeSWITCH, etc. voice systems to a virtualized environment and still maintain superior call quality and scalability.
Leveraging the benefits of virtualization, Redfone customers can now;
Consolidate voice and other platforms onto a single server solution
Reduce hardware and operational costs
Accelerate provisioning
Centralize management
Increase level of system availability and survivability
VGate is a very small downloadable software appliance that can be quickly installed into a VMWare ESX/ESXi 4.0 or newer server environment. It is licensed per T1/E1 port and is capable of handling up to 4 T1/E1s per appliance. No other virtualization software is supported at this time.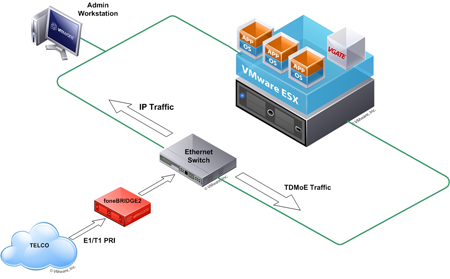 Contact Us today to obtain your VGate 30 day Free Trial license for your foneBRIDGE2 device and immediately leverage the benefits of migrating to a virtualized environment.