Gigaset pro, provider of professional communications solutions for small and medium-sized organisations, have unveiled the latest addition to the Maxwell family – the Maxwell 2. The new desktop telephone for professional business communication, completes the Gigaset pro product range for 2017, and perfectly fits between the existing Maxwell Basic and Maxwell 3 devices. Together, with the recently introduced Maxwell Expansion Module, Gigaset pro now offers a solid portfolio of IP desktop solutions.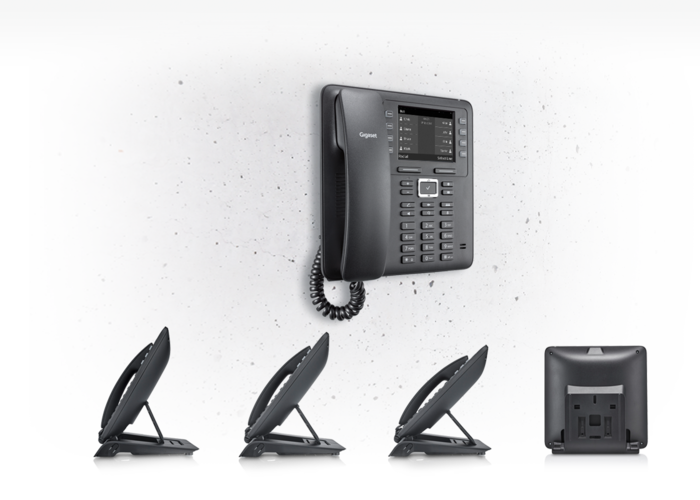 Programmable and Expandable Keys
The new Gigaset Maxwell 2 is designed to support frequent callers and their businesses in a comfortable way. The large monochrome TFT screen offers intuitive operation and a clear overview – even at wide angles or long distances.
In addition, the LED indication on top of the device shows activity, which is visible from the front and the back. With eight programmable keys for Busy Lamp Fields (BLF) and speed-dial, users can easily accept and forward incoming calls.
Even if users are in need of more keys, the Maxwell 2 is a great choice as it can be expanded with the Maxwell Expansion Module – adding 58 additional programmable keys. The Maxwell 2 can be expanded with up to three Maxwell Expansion Modules on the left and/or right side.
Interoperability
Just like the Maxwell Basic and Maxwell 3, the new Maxwell 2 is based on the advanced Gigaset pro Software Platform. Therefore, interoperability is guaranteed.
The Maxwell 2 is certified for leading on premise PBX and cloud based VoIP telephony providers. Our Gigaset pro Software Platform guarantees compatibility, quality, and interoperability for certified networks." – Julien Marguerite, Director at Gigaset
Complete Communications Solution
The Maxwell 2 is positioned between the Maxwell Basic and Maxwell 3. It offers end users extra comfort in comparison with the 'standard' Maxwell Basic telephone, and is a more functional based device than the Maxwell 3 connectivity telephone.
With the Maxwell line, and the new Maxwell 2 in particular, we focused on usability and customer demand. With this new family member, combined with the Maxwell Expansion Module and earlier Maxwell models, we are able to offer a full IP desktop portfolio." – Ron Cottaar, Marketing Director at Gigaset
Share this story with your friends or work colleagues. If you want to stay up to date with our latest products, industry news and offers you can sign up to our monthly newsletters, keep up to date with us on Facebook or follow us on twitter @VoIPon