Grandstream, the award-winning supplier of unified communications, has announced the release of a new Wi-Fi 6 access point. The new GWN7660 is an enterprise-grade 802.11ax Wi-Fi 6 access point with dual-band 2x2:2 MU-MIMO, DL/UL OFDMA technology and a sophisticated antenna design for maximum network throughput and expanded Wi-Fi coverage range. It utilises powerful, next-generation 802.11ax Wi-Fi 6 technology, making the GWN7660 ideal for high-density environments.
The GWN7660 supports a variety of flexible installation and management options. It uses a controller-less distributed network management design in which the controller is embedded within the product's Web user interface. The GWN7660 is also supported by GWN.Cloud and GWN Manager, Grandstream's free cloud and on-premise Wi-Fi management platform. It is the ideal Wi-Fi AP for voice-over-Wi-Fi deployments and offers a seamless connection with Grandstream's Wi-Fi capable IP phones.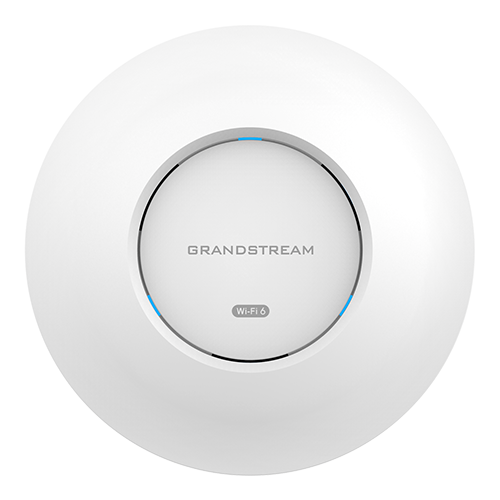 The GWN7660 is fully certified by the Wi-Fi Alliance, an independent organisation that drives Wi-Fi adoption and evolution through thought leadership, spectrum advocacy and industry-wide collaboration. With support for advanced QoS, low-latency real-time applications, mesh networks, captive portals, and more, the GWN7660 is an ideal Wi-Fi access point for medium wireless network deployments with medium-to-high user density. Notable features include:
1.77Gbps aggregate wireless throughput and 2x Gigabit Ethernet ports
Dual-band 2x2:2 MUMIMO with DL/UL OFDMA technology
Up to 175-meter coverage range
Supports 256 concurrent Wi-Fi client devices
Advanced QoS to ensure real-time performance of low-latency applications
Anti-hacking secure boot and critical data/control lockdown via digital signatures, unique security certificate/random default password per device
Self-power adaptation upon auto detection of PoE or PoE+
Embedded controller can manage up to 50 local GWN series APs; GWN.Cloud offers unlimited AP management; GWN Manager offers premise based software controller
Want to expand your communications solution further? Check out the full range of Grandstream products below! If you have any specific requirements, please contact our technical sales team on +44 330 088 0195.
Check out the original story from Grandstream HERE