Grandstream,  award-winning IP voice, video, data, and mobility solutions have released the newest line of desktop IP phones. The GRP2600 series of Carrier-Grade IP phones have advanced capabilities that the GXP series of IP phones lack, providing both essential and professional devices for deployment scenarios.
GRP2600 Comparisons
Unified Design
GRP Series has a unified design across all models that gives a modern and advanced feel to a deployment. Additionally, the GRP series possesses a unified user interface across all models. This user interface is not only designed to be more intuitive for the average user but also focuses on having call-handling and productivity driving features more readily available. As a result of this, the unified design of the GRP series delivers not only a better-looking workspace but one that is more productive and intuitive to use.
Provisioning, Configuration, and Management
Each model in the GXP series has its own firmware, while Grandstream's next-generation devices have a unified firmware across all models that streamlines the process to upgrade GRP devices by any IT team or system installers. The series can be fully managed on Grandstream Device Management System (GDMS) which offers a cloud-based solution where installers and IT teams can provision, configure, and manage Grandstream devices such as the GRP series. This empowers installers with the ability to manage all their deployments from one cloud-accessed platform and organize devices into predefined groups for provisioning and monitoring.
Lastly, the GRP series has the same alternative provisioning options as GXP devices. Zero-Config is available for all models, meaning GRP devices can be automatically configured and assigned a SIP extension when added to a network with a UCM IP PBX that has Zero-Config enabled. These capabilities come together to make provisioning, configuration, and management of the GRP series simpler when compared to our GXP models.
Clearer Deployment Purpose and Functionality
The GRP carrier-grade line is separated into two categories, essential IP phones, and professional IP phones. The essential line prioritizes feature-per-price point affordability, while the professional IP phones have a higher price point but larger screen sizes, more hard keys for faster call management/MPK usage, and Wi-Fi capabilities. Within the essential IP phone line, devices are separated clearly by lines/SIP accounts and network port speeds, with only one phone featuring BLF/SD keys. The professional IP phones are broken down between line/SIP accounts, MPK amounts, and dedicated area/screen for speed dial and BLF keys. Compared to the GXP series, it is easier for resellers, installers, and businesses to choose a device based on price point and the needs of the phone users within the organization.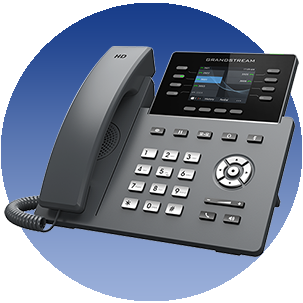 The GRP series of IP phones have an array of factors that makes them stand out as our next generation of IP phones when compared to the GXP series. A unified and more intuitive design, better backend configuration and management, and clearer use cases all add together to provide a great IP phone selection for installers and businesses.
If you're ready to learn more about the GRP series of carrier-grade IP phones, take a look at Grandstreams buyer's guide by clicking below.
Want to expand your communications solution further? Check out the full range of Grandstream products below! If you have any specific requirements, please contact our technical sales team on +44 330 088 0195.
See the original post from Grandstream here