Sangoma's enterprise TDM to SIP gateway, NetBorder Express (NBE) software continues its evolution. Version 4.1 now introduce the support of the Linux operating system, on top of the existing coverage for Windows. Note that features are the same for Windows or Linux, providing maximum deployment flexibility. Other usability features have been added:
Support for ISDN BRI point to point and point to multipoint lines
The availability of configuration templates, allowing direct NBE configuration integrated with I-PBX platforms
Smart updates. You can now update and upgrade the software directly from the Web management interface, without losing your configuration
Specification
We would also like to remind our customers that NBE is free to download and use for up to 12 ports. If you need more capacity, you need to purchase a software license. All you need to get started is a Sangoma compatible card. Not sure which cards are compatible? Please Contact Us for more information.
NetBorder Express software, together with Sangoma's computer telephony boards, is a complete SIP-compliant VoIP Media Gateway solution, delivering the most flexible and cost effective solution by removing the need for external gateways.
Compatible with Analog FXO and FXS, MFC/R2, ISDN BRI and PRI telephony interfaces, NetBorder Express can scale from 2 to 480 simultaneous calls, providing excellent value and flexibility for deployments in any geography.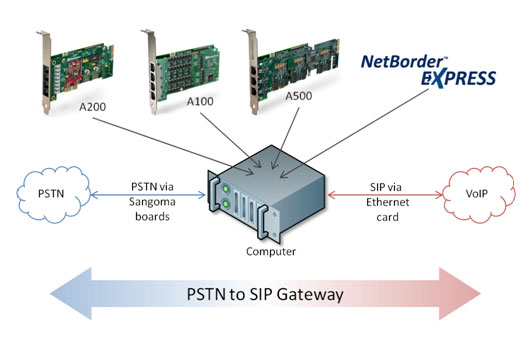 NetBorder Express communicates with applications such as IP-PBXs, speech enabled IVRs, conferencing servers, contact center or trunking gateways directly with the ubiquitous SIP control protocol to reduce deployment time, complexity and cost for next generation network application deployments.
NetBorder Express software is licensed via a simple online process. You can download a free SOHO version, which is full-featured for up to 12 ports. If you need more than 12 ports, a commercial license is required. Sangoma Telephony hardware must be purchased separately.
NetBorder Express is a full-fledged VoIP Gateway delivered as a software application. NetBorder Express version 4.0 support the following:
PSTN protocol termination:
Analog FXO/FXS (with A200 or B600 hardware)
ISDN PRI (with A100 hardware)
– North American variants
– EuroISDN
– NEW Japan variant (INS1500)
NEW ISDN BRI (with A500 and B700 hardware)
NEW MFC/R2 (with A100 hardware)
Capacity from 2 to 480 channels of simultaneous calls per system
VoIP protocol termination:
TCP or UDP
SIP Control Protocol per RFC 3261
RTP/RTCP per RFC 3550/3551
Security
TLS per RFC 5246
SRTP per RFC 3711
NEW HTTP Digest authentication
Media Processing
G.168-2002 Echo Cancellation with hardware option
DTMF over RTP per RFC 2833. International and custom tone detection and generation
Voice Activity Detection and Comfort Noise Generation (VAD/CNG)
NEW T.38 Fax relay
Software License
NEW Default SOHO license available for download for up to 12 ports
Commercial software licenses required above 12 ports
– 25 digits license ID provided upon purchase
– License ID and Server MAC address required for Web registration and download of software
– License file host locked
Application Compatibility:
Microsoft Lync
3CX
SnomOne
Voxeo
Genesys SIP Server
Any other standard SIP application
NetBorder Express can be installed on the same server or on a dedicated server
Compatible Sangoma Hardware:
Analog FXO and FXS
– A200
– NEW B600
ISDN BRI
– NEW A500
– NEW B700
MFC/R2
– A101, A102, A104, A108
ISDN PRI
– A101, A102, A104, A108
Notes:
– Hardware must be purchased separately
– Hardware echo cancellation option is mandatory for NetBorder ExpressNetBorder Express software installs compatible board drivers automatically. There is no need to obtain board drivers separately
– Each specific NetBorder Express software version is tested against a specific version of the firmware that comes loaded on Sangoma hardware. It may be required to upgrade the firmware of the boards at installation time. At installation time, NetBorder notifies the administrator and provides instructions to perform this step
– Consult NetBorder Express Release Notes for more details
Management and Configuration
Web Server
Web Services API
Configuration files for easy integration into OEM applications
SNMP DS0, DS1 and Call Stats MIBS
Contextual Help Menus
Extensive Logging
Automatic Board Discovery
Open Protocol Translation and XML based routing rules
Configurable ISDN PRI to SIP Mapping per RFC 3398
Minimum Server Specs
Intel or AMD processors
Dual Core processor or later
1 GB of RAM or better