Yealink has announced it has successfully completed the compatibility test of its VoIP Phone range including the T2 series, T3 series and IP Video Phone VP530 with RTU Class 5 VoIP Platform v. 1.7.4 of ALOE Systems, a leading developer of advanced VoIP softswitch solutions, session border controllers, and service platforms for telecom carriers.
The Yealink T2 series includes the Yealink T20P, the Yealink T20E, the Yealink T22P, the Yealink T26P and the Yealink T28P. The T3 series includes the Yealink T32G and the Yealink T38G. 
ALOE Systems RTU is a multifunctional class 5 VoIP platform specifically designed to give an opportunity to all categories of telecommunications carriers to provide its customers with a wide range of services in the most effective and flexible way.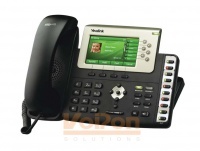 As a leading global provider of easy-to-use VoIP terminals, Yealink is committed to offering reliable, and cost-effective IP Voice and Video Phones for various customers in worldwide." said Stone Lu, Senior Executive Vice President of Sales and Marketing, Yealink. "By working with ALOE Systems, we are able to expand the interoperability of our phone systems and to provide our customers with a wide range of options to meet their business communications needs and relentless change."
Share this story with your friends or work colleagues. If you want to stay up to date with our latest products, industry news and offers you can sign up to our monthly newsletters, keep up to date with us on Facebook or follow us on twitter @VoIPon.