Howler Technologies has expanded its Screamer transcoding product line. Today it launched a 64-bit version of its highly successful Screamer G.729 transcoder card that supports up to 425 simultaneous calls.
VoIP network operators and large enterprises with IP call centres that support hundreds of agents can benefit from this high capacity G.729 transcoding solution, which has more than three times the transcoding power of any other PCI Express based product currently available. G.729 is a high-quality, low bit rate codec that saves bandwidth.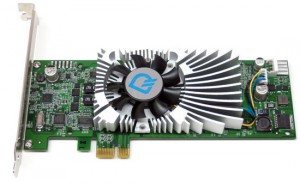 Because it is not DSP based, customers can configure their Screamer cards according to their business requirements and upgrade their transcoding capacity whenever they like. By adding multiple cards to a server, companies can build thousands of channels of transcoding into their networks at a fraction of the cost of deploying expensive media gateways.
"The ability to optimise transcoding between G.729 and G.711 codecs means IP telecoms operators can rationalise their infrastructure, as well as create more opportunities for revenue by routing VoIP traffic directly to and from bandwidth-constrained locations," said Mike Vieyra, CEO of Howler.
The Howler Screamer product line is compatible with many popular softswitches, such as Asterisk, FreeSWITCH, trixbox and elastix. Howler Screamer 64-bit is available to buy today from the VoIPon webstore.