3CX, developer of the award-winning Windows VoIP PBX 3CX Phone System and mobile device management solution 3CX Mobile Device Manager, and Yealink, manufacturer of IP Phones like the T41P and T22P, announces a strategic partnership which provides a closer cooperation between the two companies offering businesses a Best of Breed Unified Communications solution.
Yealink's highly regarded IP phones are natively supported by 3CX featuring plug and play provisioning, firmware updating and IP Phone management, all from within the 3CX Management Console.
CTI integration – A productivity winner – Strategic cooperation makes it possible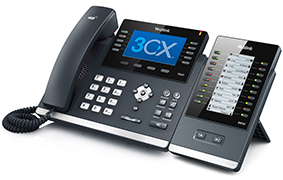 The new strategic cooperation has also led to CTI integration as Yealink and 3CX have worked together closely to create a solution that allows users to control their IP Phone from their desktop, providing massive productivity gains. Until now, such CTI integration required expensive, proprietary and difficult to manage PBX solutions. Yealink and 3CX can now provide seamless CTI desktop integration with all Yealink IP Phones and 3CX Phone System V12.
Beyond the Standard PBX and IP Phone Relationship – Guaranteed Interop
This partnership also guarantees full interop between, 3CX and Yealink products, giving partners and customers peace of mind. All new products are fully tested and validated by 3CX before their release, guaranteeing there are no compatibility issues when using Yealink IP phones with 3CX Phone System.
We are extremely pleased to announce this new strategic partnership with Yealink. Yealink is a highly regarded IP Phone supplier and this cooperation allows us to offer our joint customers a cutting-edge Unified Communications solution combining best of breed PBX technology with award-winning IP Phones" said Nick Galea, 3CX CEO. "Both Yealink and 3CX can now innovate faster and offer a superior integrated telephony platform which will benefit our customers and partners."
3CX is the leading PBX developer and our cooperation with this award-winning company is of great significance and vital to the progression of Yealink," said Stone Lu, Vice President of Yealink, "This exciting new partnership with 3CX highlights Yealink's commitment to provide our customers "Easy VoIP" end-points and to deliver much more possibilities on future communication for our mutual customers globally. Our customers and partners internationally will certainly reap the benefits from the success our new partnership with 3CX will bring."
Share this story with your friends or work colleagues. If you want to stay up to date with our latest products, industry news and offers you can sign up to our monthly newsletters, keep up to date with us on Facebook or follow us on twitter @VoIPon.