Yealink has announced that the T4 VoIP Phone Series, including the Yealink T41P, T42G and T46G, has been selected as a winner of the Best of Show Award for Best SMB Solution at ITEXPO. Winners of the prestigious Best of Show Award program are reserved for products or services that demonstrate raw creativity and technological innovation. ITEXPO was held August 27-29th, 2013, at the Mandalay Bay in Las Vegas.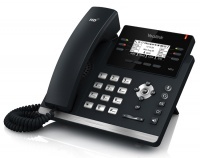 The T4 series of Yealink VoIP Phones is revolutionary in appearance and has an advanced technical design, making it both pleasurable and practical to use.The T4 series offers up to 4.3 inch 480 x 272 pixels extra-large display screens and has advanced features that include support for gigabit networks and USB Bluetooth support for easy Bluetooth earphone use. Enhanced sound quality is delivered by the Optima HD Voice system which meets TIA 920 certification standards.
It is an honor to receive this award," said Stone Lu, VP of Yealink, "Yealink will continue committed to offering the most comprehensive VoIP communication terminal solutions to customers."
TMC evaluated a broad range of Best of Show nominations at ITEXPO Las Vegas, and the quality and innovation demonstrated by all applicants was outstanding," said Rich Tehrani, TMC CEO and conference chairman. Yealink presented a standout solution, and we're pleased to award them as a Best of Show winner."
ITEXPO Miami will take place January 28-31, 2014, in Miami Beach, Florida. ITEXPO Miami will deliver programming that focuses on the latest technologies, regulations, essential issues and trends within the communications industry, including wireless and mobility, unified communication and collaboration solutions, VoIP solutions, cloud computing, customer experience and interaction, and much more.
Share this story with your friends or work colleagues. If you want to stay up to date with our latest products, industry news and offers you can sign up to our monthly newsletters, keep up to date with us on Facebook or follow us on twitter @VoIPon.