OpenVox Communication Co. Ltd, a global leading provider of the most advanced open source asterisk telephony hardware and software products, has announced today that high density OpenVox Voice Transcoding V100 series Cards are released. With V100, a huge number of superior quality simultaneous voice transcodings can be easily done in the telephony network.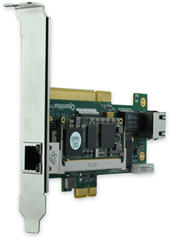 The OpenVox V100, based on Octasic's Vocallo MGW multi-core processor, can handle up to 400 channels of voice trancoding on one card without additional host CPU load.
"Compared with PC based transcoding software, the trancoding solution based DSP is more efficient ", said Lin Miao, the president of OpenVox, "It is unimaginable that hundreds of voice transcoding can be handled by software solution, and the V100 can do it easily."
The V100 is designed as both PCI and PCI-E Form Factors in the same board, and supports both normal PCI/PCI-E bracket and low profile PCI/PCI-E bracket. The Media/Control Path includes PCI, PCI-E and RJ45 UTP ports. The flexible architecture can save the customer's costs.
The V100 supports many voice Codecs such as G.711, G.729AB, G.722, G.722.1, GSM-FR, GSM-EFR, AMR, AMR-WB, iLBC, etc.
With OpenVox released software package, The V100 can be integrated into Asterisk and FreeSWITCH seamlessly. Moreover, the API can be provided for custom development.
The V100 includes the following models:
OpenVox V100-032 – Up to 32 Transcoding Sessions
OpenVox V100-064 – Up to 64 Transcoding Sessions
OpenVox V100-128 – Up to 128 Transcoding Sessions
OpenVox V100-256 – Up to 256 Transcoding Sessions
OpenVox V100-400 – Up to 400 Transcoding Sessions