Sangoma have announced that their Sangoma Asterisk VoIP Cards are being used as a foundation for a tailored platform to serve the needs of the Brazilian call center market. 
Call center operators vying to capture market share in Brazil's highly-competitive debt collection services industry are constantly challenged to find and deliver more efficient solutions that keep agents on the phone with customers who produce revenue, and not with answering machines or network intercept announcements such as "disconnected number" or "all circuits busy." In addition, call centers are seeking efficient solutions that support thousands of simultaneous outbound calls, along with efficiency in power utilization, performance, and price.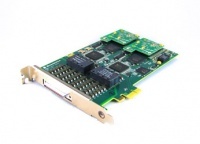 Sao Paulo-based CallFlex, a leading provider of telecommunications solutions, call center systems, and hosted services, has delivered a highly-effective platform that is uniquely tailored to the needs of the Brazilian call center market by addressing the critical business needs of many of the top debt collections service providers in the region. Fueled by the power and flexibility of Asterisk, its CallFlex Manager, a highly efficient server-based solution with the capacity to manage thousands of simultaneous calls in a single server, and the CallFlex AdaptMax dialer solution for call centers, together deliver the technological advantages sought by many of the market's top call center operators. The CallFlex Manager is built on the foundation of Sangoma's A116 Digital Telephony Board, which provides network connectivity for sixteen E1 spans – supporting 480 simultaneous calls – in a single expansion-slot in the server.
Sangoma offer a range of different Asterisk cards, including Analog Cards, A500 BRI Cards, B500 BRI Cards and PRI Cards.  
The call centers demand an extraordinary level of agent occupancy, and we found that the operation of the Sangoma A116 board is the best solution in the marketplace to meet these needs," said Alexandre Azzoni chief commercial officer of CallFlex. "Sangoma has developed some key call management features that have a significant impact on the efficiency of the overall platform. The quality and reliability of the Sangoma boards is an important part of the success of these projects – and the lifetime warranty on the boards is a testament to Sangoma's commitment to its customers."
Share this story with your friends or work colleagues. If you want to stay up to date with our latest products, industry news and offers you can sign up to our monthly newsletters, keep up to date with us on Facebook or follow us on twitter @VoIPon.