Sangoma B500 ISDN BRI Interface Boards Deliver Flexible Configuration Options to Facilitate SMB Connectivity to Carrier Networks
Sangoma Technologies Corporation (TSX VENTURE:STC), a leading provider of hardware and software components that enable or enhance IP Communications Systems for both voice and data, announced the release of its B500 Basic Rate Interface (BRI) Telephony Interface Board. Designed for simple integration with open source projects, including Asterisk and FreeSWITCH, as well as other open source and proprietary PBX, Switch, IVR and VoIP Gateway applications, the Sangoma B500 provides solution provides developers with an efficient and cost-effective connectivity solution.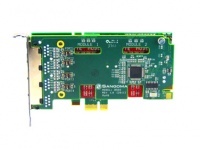 Many small- and medium-businesses worldwide use ISDN BRI for PSTN connectivity. For developers looking to create innovative products for this significant market, ease of integration, flexibility, and reliability of interface boards are critical to success, Sangoma's B500 BRI Telephony Interface board issoftware-configurable, providing developers with a broad palette of connectivity choices that make it easy to create powerful and compelling telecom products and services." said Julien Nephtali, Sangoma product manager.
The PCI Express-compliant Sangoma B500 features two or four individually configurable BRI interfaces that support mixed NT or TE modes. Compatible with Windows and Linux operating systems, and with API and design resources to support integration with multiple telephony platforms, the boards simplify the connectivity elements of a solution, freeing developers to focus on innovative feature and function creation. The board also offers optional Telco-grade echo cancellation implemented in hardware to minimize the potential impact that this CPU-intensive function can have on the Server.
The models are Sangoma B500 1 Module – 2 BRI Ports – 4 B-Channel PCIe, Sangoma B500 1 Module – 2 BRI Ports – 4 B-Channel PCIe + Echo Cancellation, Sangoma B500 2 Modules – 4 BRI Ports – 8 B-Channel PCI  and Sangoma B500 2 Modules – 4 BRI Ports – 8 B-Channel PCIe + Echo Cancellation.