Sangoma Technologies, a leading provider of hardware and software components that enable or enhance IP Communications Systems for both voice and data, announced that it will showcase the latest in telecommunications technologies and solutions at ITEXPO, scheduled for August 26 through 29, 2013 at the Mandalay Bay Hotel in Las Vegas.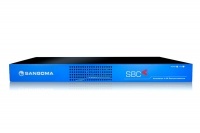 Sangoma will exhibit its broad portfolio of hardware and software solutions that interconnect disparate technologies, networks, and clouds, along with its unique and award-winning Microsoft Lync and Session Border Controllers at ITEXPO. The company will also conduct free product workshops for Lync Express and Session Border Controllers during the conference. Sangoma will also offer a preview demonstration of its video MCU solution in the FreePBX booth (#112).
During the exhibition, Sangoma will be joined by its business partners VoiceCarrier, SoTel and InTrust IT to highlight its latest enabling communications technologies. Sangoma is an ITEXPO Gold Sponsor, and the Premium Sponsor of the collocated FreePBX World conference. Sangoma will be located booth 413 throughout the exhibition. 
We are very pleased that VoiceCarrier, SoTel, and InTrust IT will join us to exhibit a variety of innovative and market-proven products that are built upon Sangoma's technologies," said Jeff Dworkin, Sangoma's director of marketing. "Our partners are experts in addressing a variety of deployment challenges in IP, legacy and hybrid environments, and are eager to join us in helping businesses and service providers understand how our technologies can improve efficiency and reduce costs."
Sangoma also offer a wide variety of high quality VoIP Gateways, analogue cards, BRI cards, PRI cards and hybrid VoIP cards. 
Share this story with your friends or work colleagues. If you want to stay up to date with our latest products, industry news and offers you can sign up to our monthly newsletters, keep up to date with us on Facebook or follow us on twitter @VoIPon.