An excellent choice for large businesses and enterprises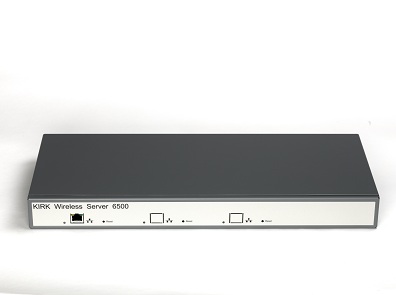 Polycom SpectraLink have introduced the new Polycom KIRK Wireless Server 6500 which is a 19" rack solution and an extremely scalable wireless SIP solution that can handle a large number of mobile employees or cover a large geographical area – or both. 
The Polycom KIRK Wireless Server 6500 shares a lot of similarities with the existing KIRK Wireless Server 6000, but it is built on a new platform with capacity for a continuous strong product development. The KIRK Wireless Server 6500 is a future-proof and excellent choice for larger businesses and enterprises.
Moreover, the new KIRK Wireless Server 6500 can be deployed as a redundant solution with automatic failover which helps you secure your business, communication, and information. 
The KIRK Wireless Server 6500 full solution consists of the following: KIRK Wireless Server 6500, KIRK Media Resource, KIRK IP Base Stations, KIRK User License and KIRK Handsets.
Key features and benefits:
In qualification for Microsoft® Lync™ Server 2010 
All maintenance done through the server 
 Stable system core based on Linux 
 Improved SIP stack supporting key UC solutions 
Provisioning of configuration, firmware, and wireless users
Share this story with your friends or work colleagues.  If you want to stay up to date with our latest products, industry news and offers you can sign up to our monthly newsletters, keep up to date with us on Facebook or follow us on twitter @VoIPon.