Xorcom, a VoIP and Asterisk hardware provider, have released their CompletePBX 5.0.37 update, which adds the Complete Concierge hotel PMS interface right into CompletePBX GUI.
In this release, the user interface has been simplified to allow for easier setup and use. This is just one example of the ​many useful improvements and fixes that this update brings. For more information, please see the full Xorcom post.
Complete Concierge Hotel PMS Interface for CompletePBX 5
Complete Concierge is now fully integrated into CompletePBX 5 GUI.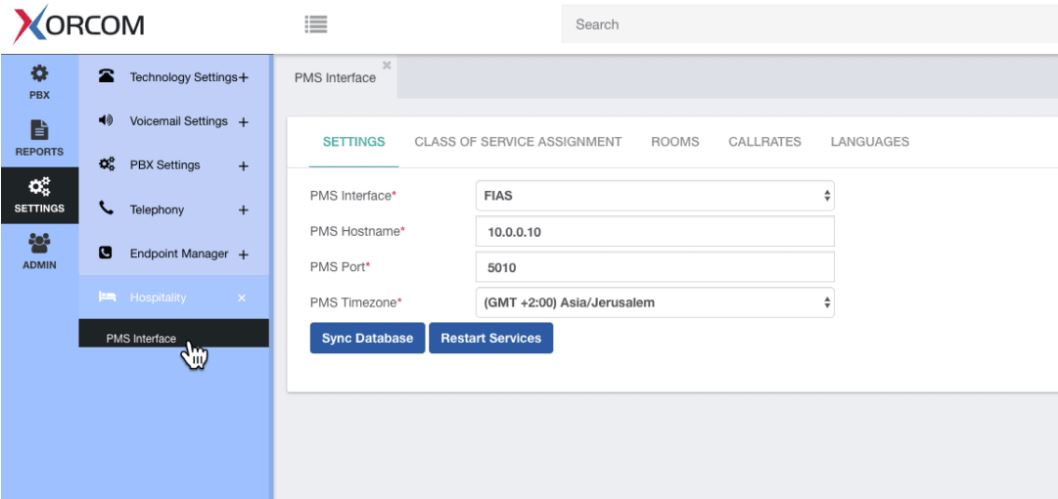 No need for external Windows configuration app

User interface significantly simplified

Call rates tab logic redesigned for ease of configuration and use

Import and export available for call rates

Import and export available for room/extension setting

Licence management simplified

Default class-of-service templates predefined

Default Route Selection is predefined

Cleanup of wake-up calls upon checkout added
PBX Hotel Phone System Interface Tutorial
IP Phone Provisioning Improvements
SIP Plug-and-Play module will now reply only to phones with MAC ID that is registered in CompletePBX 5 Endpoint Manager.  This will avoid potential issues in environments with more than one CompletePBX systems, such as lab environment.  Once the phone's MAC ID is registered in EPM, the phone will get an automatic reply from SIP Plug-and-Play.
The following epmpnp (Endpoint Manager Plug-and-Play) parameters can be configured in the /etc/epmpnp.conf file:
 -u http://<PBX IP>/xepm-provision/  -set URL that will be sent in the SIP NOTIFY response to the telephones. It can be used for the cloud-based installations where epmpnp is installed on a local Linux machine and refers the telephones to the remote PBX.
-d  -enable debug messages to be send to the system journal. You can run the following command in order to see the messages:
journalctl [-f] [-u epmpnp] -a
Additional PBX Improvements
Default PBX language – a default PBX language may now be set via the GUI. This language will be applied as a default language for SIP and legacy (DAHDI) channels.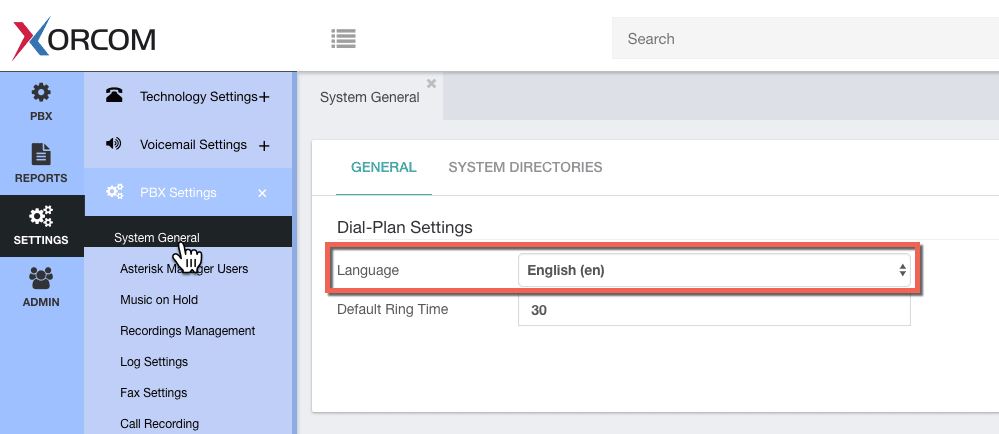 FXS channels (DAHDI) are now searchable in Global Search

DAHDI channel groups are now searchable in Global Search

Extension diversions may now be controlled via API

Class of Service may now be dynamically set via API
Fixes
Cloud Call Recording – issue with verification due to API changes.  [Fixed]

In some cases, timestamp value was empty in CDR due to racing conditions.  [Fixed]

Issues with Duplex Paging – regression from v.5.0.32.  [Fixed]

Changing FXS Hotdesking or Extensions profile did not update FXS profile.  [Fixed]

Mobile and Custom Device unlinking failed.  [Fixed]

Hotdesking IAX device can't make calls after reload.  [Fixed]

VM box not saved in the configuration file.  [Fixed]

Search finds internal (irrelevant) feature codes.  [Fixed]

In some cases, Extension Status does not show diversions.  [Fixed]

In certain conditions, call transfer would fail when done from a hot-desking device.  [Fixed]

Modifying SIP tab in Profiles would unnecessarily restart DAHDI.  [Fixed]

Yealink T46S expansion missing button types.  [Fixed]

FXS device language was always English.  [Fixed]

Internal improvements
Download FREE CompletePBX Virtual Machine Now!
Share this story with your friends or work colleagues. If you want to stay up to date with our latest products, industry news and offers you can sign up to our monthly newsletters, keep up to date with us on Facebook or follow us on twitter @VoIPon