Top Phone Hooks Up with Top Platform in RTP Hotbed
Yealink, a leading provider of VoIP Phones, announced that it is partnering with Bandwidth, one of the Triangle's fastest-growing tech companies, to offer complimentary cloud-based Phonebooth devices and services to dozens of new businesses currently setting up shop in the booming Durham-based startup hub, American Underground.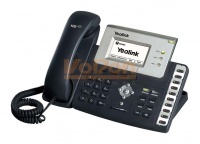 With Bandwidth bringing to the table a custom-designed cloud-based network perfect for supporting all day-to-day telecommunication needs of the Underground's increasingly innumerable small-to-medium sized businesses, Yealink's primary role will be to deliver top-of-the-line VoIP hardware, each device hand-selected to cater specifically to startups' different professional needs. Based upon feedback from consumer reports, Yealink's T22P and Yealink T26P series IP phones will be deployed as trial devices for the Underground project, for their radically popular HD voice quality, as well as multi-operational conferencing features.
Startups need great infrastructure to flourish. Bandwidth's partnership brings high-caliber resources and equipment to emerging technology companies, making it easier for them to focus on a successful launch," said Underground Chief Strategist Adam Klein.
"We are very pleased to be able to work with great partners like Bandwidth and American Underground in helping high-tech startups during their early-growth phase. The combination of Yealink voice over IP telephone sets and the excellent network connectivity provided by Bandwidth will certainly provide greatly increased efficiencies for these new telecom enterprises," added Stone Lu, Yealink Executive Vice President.
Share this story with your friends or work colleagues.  If you want to stay up to date with our latest products, industry news and offers you can sign up to our monthly newsletters, keep up to date with us on Facebook or follow us on twitter @VoIPon.