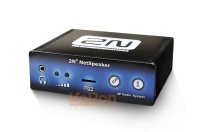 2N have released the new software version 1.3.6, which brings new functionality of general RTP sources and destinations. This function allows the interconnection of our 2N NetSpeaker IP audio system with third-party devices from which we can receive or send an audio signal. 
The basic requirement for these devices is that they support RTP streaming. As an example, from our portfolio, you could use the 2N Helios IP range.
The Console application, which is designed for users to play mp3 files or make live announcements, has received a new, improved graphic layout. A new feature enables you to search for 2N NetSpeaker units in the network, which will be displayed even if they have not been assigned an IP address.
 A novelty is the ability to insert a pause between individual playlists, which are synchronized on the SD card. This is essential, for example, to play advertising messages.