2N have announced that their 2N Helios IP door intercoms have obtained official certification from Alcatel-Lucent on compatibility with the OmniPCX Enterprise communication system. This certification is the result of long-term tests, which verified flawless, mutual co-operation between the two devices. All 2N Helios IP series intercoms are also certified for the Aastra 5000 communication system, which is designed for up to 15,000 IP users.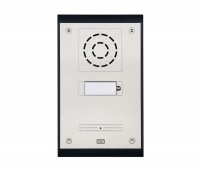 The 2N Helios IP door and security intercoms are leading products in their sector, both with regard to the technology used and to their overall design. The Helios range is an extensive one, with products such as the Helios IP Uni 1 button 9153101, the Helios IP Vario 1 Button Door Entry Panel, the Helios 3×2 button + keypad + cam. + display, the Helios IP Force – 1 button & 10W speaker and the 2N Helios IP Safety – 1 button & 10W speaker.  
Share this story with your friends or work colleagues. If you want to stay up to date with our latest products, industry news and offers you can sign up to our monthly newsletters, keep up to date with us on Facebook or follow us on twitter @VoIPon.