Yealink Receives 2014 INTERNET TELEPHONY Product of the Year Award
Yealink, one of the global top 3 SIP Phone provider, announced today that TMC, a global, integrated media company, has named Yealink Ultra-elegant Gigabit IP Phone SIP-T48G as a recipient of a 2014 INTERNET TELEPHONY Product of the Year Award.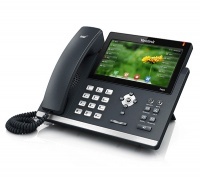 The SIP-T48G is Yealink's most recent innovative IP Phone for a fast-changing world. Designed specifically for both local and international use by business, industry and commerce, it incorporates a large touch panel that makes switching between different screens and applications swift, easy and convenient. Yealink's Optima HD technology very carefully creates the impression that you are sitting virtually face-to-face opposite the person at the other end of the call. The Yealink T48G is also built for the Gigabit Ethernet and facilitates very rapid call handling and the application of accessories such as a Bluetooth USB Dongle, plus wired and wireless headsets. The new IP Phone supports impressive productivity-enhancing features too which make it the natural and obvious efficiency tool for today's busy executives and professionals.
It gives me great pleasure to recognize Yealink with a 2014 Product of the Year Award for its commitment to excellence and innovation, said Rich Tehrani, CEO, TMC. "In the opinion of our distinguished judges, Yealink Ultra-elegant Gigabit IP Phone SIP-T48G has proven to be among the best communications and technology solutions on the market in 2014. I look forward to continued innovation from Yealink.
 Share this story with your friends or work colleagues. If you want to stay up to date with our latest products, industry news and offers you can sign up to our monthly newsletters, keep up to date with us on Facebook or follow us on twitter @VoIPon.