We are pleased to announce that Switchvox Mobile for Android is now available! This Switchvox Mobile application is now available free of charge from the Android Marketplace. And remember, Switchvox Mobile is available for iPhone and Blackberry devices too.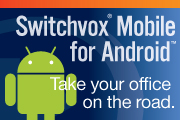 Your Digium Switchvox SMB customers will be able to access their voicemail, check their call history, change out-of-office greetings and make calls from Switchvox through Switchvox Mobile. It makes it easy to place calls from their Switchvox extension and then transfer the call or record the call through the InCall Menu. Contact Us to find out more about Switchvox Mobile and how to extend the power of your Switchvox solution on Android mobile devices.
Make Calls

Call your clients or your coworkers from Switchvox Mobile, and the call looks like it's coming from your desk!

Check Voicemail

Listen to your voicemail and return calls right from the Voicemail screen.

Check Calls

Call Logs show your incoming, outgoing, and missed calls. You can easily return calls right from the Call Log.

Manage Greetings

You can choose which of your voicemail greetings your callers hear.


Company Directory

The Directory lets you quickly find your coworkers' extensions and email addresses, then call or send an email. iPhone Activate Call Rules


Activate Call Rules

Activate your call rules right from your smartphone. If you're in an offsite meeting and can't be disturbed, it's easy to send your calls to voicemail.