snom technology AG, a leading developer of VoIP phones, Wireless IP phones and IP communications solutions, today announced the snom 821 phone configured with the new version of snom UC edition firmware has earned 'qualified for Microsoft Lync' status, making it the first snom device running this software release for full compatibility and interoperability with Lync. Named Apollo, the new firmware delivers expanded capabilities to snom phones deployed with Microsoft Lync including music on hold, shared line appearances and integrated presence functionality.
Becoming 'qualified for Microsoft Lync' represents a significant benchmark for our snom UC edition firmware and the snom 821, and we expect all our snom UC edition phones running Apollo to achieve the same recognition from Microsoft in the coming months," said Dr. Michael Knieling, COO, snom technology. "The new Apollo firmware seamlessely integrates both Lync and traditional enterprise telephony features directly on the phone, significantly enhancing the capabilities of snom UC edition phones in Micorosft Lync environments."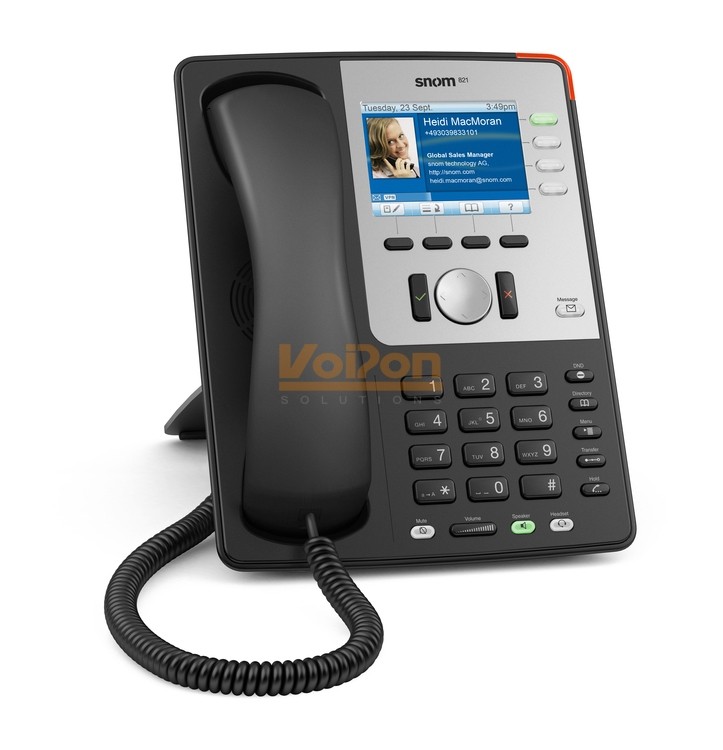 The advanced snom 821 is the first snom UC edition phone configured with snom UC Apollo firmware to become qualified for Microsoft Lync. The snom 821 is designed for information workers who need a phone with a high-resolution color display and advanced presence features integrated with call history and contact lists. This model also supports a Gigabit interface to take advantage of higher network performance and a wireless LAN interface that eliminates the need for any physical cabling. In addition, the phone can concurrently operate in a mixed environment that includes both Microsoft Lync 2010 Enterprise Voice and another SIP-based IP PBX, offering maximum flexibility to the end customer.

snom's UC portfolio of standards-based snom VoIP phones 'Qualified for Microsoft Lync' enables businesses to enhance workforce productivity and collaboration from the desktop by utilising features available with Microsoft Lync, such as presence, quick dialling from Lync buddy lists and more. Now, the snom UC Apollo firmware delivers additional unique features for the snom 821 UC edition desktop phone. The snom 300 UC edition and snom 370 UC edition phones featuring the new firmware are currently in the qualification process at Microsoft and will support the new Apollo firmware shortly.
New server-side configuration and management features The new snom UC Apollo firmware also enables advanced server-side provisioning and management of snom UC edition endpoints within the Microsoft Lync Server 2010 Enterprise Voice environment. "Plug and play" simplicity makes provisioning, deployment and management of snom UC endpoints dramatically easier, faster and more efficient than other Lync-qualified alternatives in the marketplace.
Native software updates: snom endpoints are easily managed directly from the Microsoft Lync server.
Easy sign-in via extension and PIN: snom UC devices are able to request and start using a client certificate for authentication, eliminating the need to enter full NTLM credentials and making the phones independent from password changes.
Hot desking functionality: Mobile users can conveniently sign into multiple accounts.
Simple integration with survivable branch appliances: This allows business communications to continue during a WAN outage.
New phone features
Music on Hold: snom UC edition phones are now able to generate music for callers placed on hold.
Shared Line Appearances – Boss/Admin: Shared line appearances simplify the flow of calls between two co-workers such as a boss and his/her administrative assistant. Incoming calls ring at both endpoints, enabling the admin to answer the call, place the call on hold and alert the manager who can then take the caller off hold and have a conversation. One party can also make calls on behalf of the other.
Programmable Buttons for Presence Status: Users can assign contacts to the phone's buttons directly from the contact list and simply push the button to view presence status in real-time.
Resellers will appreciate the technical benefits of these management and usability features to simplify and speed deployment, which translates into bottom line savings. Further, businesses can now enjoy popular business telephony features like music on hold and Boss/Admin in a Microsoft Lync environment using snom UC edition phones powered by our Apollo firmware," added Storella.