Digium has announced that it has been named to CRN's 2013 Partner Program Guide and awarded a 5-Star Partner rating. The CRN Partner Program Guide is the definitive listing of manufacturers and software publishers that provide products to the IT Channel. The guide recognizes those vendors who have channel programs and derive a portion of their sales through the indirect IT Channel. The 5-Star Partner Program rating recognizes an elite subset of Partner Program Guide vendors who give solution providers the best partnering elements in their channel programs.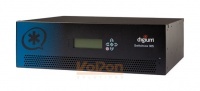 Digium is a manufacturer of analogue cards, BRI cards, PRI cards and Transcoder Cards.  As the creators of Asterisk, Digium have revolutionised the way people communicate through VoIP. Many VoIP systems utilise this platform and with Digium Switchvox all of the necessary complex tasks become simple and straightforward. As the VoIP industry grows, Digium continues to lead the way in software evolution, and provides support for the ever increasing range of VoIP Phones, VoIP systems and protocol changes.
The CRN list methodology is based on objective criteria that takes into account each vendor's investments in program offerings, partner profitability, partner training, education and support, marketing programs and resources, sales support and communication. Vendors are assessed using information provided in their completed applications.
Digium's 5-Star Partner Program provides opportunities for partners to sell the full line of Digium's award-winning Switchvox Unified Communications systems, Switchvox Cloud hosted Unified Communications or build custom communications solutions with Asterisk. Partners also can sell Digium IP phones, Digium gateways, redundancy appliances, and telephony cards, all of which are designed to build custom communications solutions.
The program features three tiers—Select, Registered and Affiliate, with incentives, benefits, training, certification and marketing promotions designed to help authorized Digium partners gain a competitive advantage in today's growing VoIP and business phone market.
It is rewarding to see our partner program continue to be recognized as one of the elite programs in the industry," said Steve Harvey, Digium vice president of worldwide sales and CRN channel chief. "We have focused on building our channel program to deliver the greatest value, with both outstanding products and the people required to support our partners to help them succeed. We invest in qualifying our inbound leads and providing our partners with real opportunities, not just contacts. In fact, together with our partners, our Switchvox product line has experienced significant success, resulting in more than 30 percent growth year over year. There has never been a better time for partners to consider joining our program.

With Digium phones and gateways, partners can easily offer a complete business phone solution. And our newly introduced Switchvox Cloud offering is a best value for small businesses that want a hosted UC solution—and a great opportunity for the partners who need this option in their portfolio. I encourage people to attend one of our weekly demo webinars or attend our monthly partner program session to learn more. It will be easy to see why customers and partners consider Digium an award winner."
The 2013 Partner Program Guide will be featured on CRN.com and the 5-Star Partners listing will be highlighted in the March 2013 issue of CRN.
Share this story with your friends or work colleagues. If you want to stay up to date with our latest products, industry news and offers you can sign up to our monthly newsletters, keep up to date with us on Facebook or follow us on twitter @VoIPon.