Polycom has received CRN's respected 5-Star Rating for the Polycom Choice Partner Program for the fourth year in a row. Polycom will also be featured in CRN's 2013 Partner Program Guide. The 5-Star Partner Program rating recognizes elite vendors who give solution providers the best partnering elements in their overall channel programs.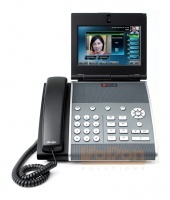 Polycom are a leading manufacturer in the VoIP industry, manufacturing quality VoIP Phones, Conference Phones, and Conference Stations. Examples of Polycom products include the Polycom SoundPoint IP 331, the Polycom SpectraLink 8450, the Polycom CX3000 and the Polycom VVX 1500. 
Polycom, with 7,000 alliance and channel partners worldwide, won its fourth 5-Star rating in the Enterprise category, which comprises companies with more than $1 billion in revenues. The list methodology is based on objective criteria that takes into account each vendor's investments in program offerings, partner profitability, partner training, education and support, marketing programs and resources, sales support and communication. Vendors are assessed using information provided in their completed applications.
The Polycom Choice Partner Program provides Polycom's partners the tools and training they need to succeed and grow by extending the value of the Polycom RealPresence Platform's unified communications environment to new users, and by working with Polycom alliance partners, technology partners and developers to deliver complete UC&C solutions to new and existing customers. The Choice Partner Program rewards partners for consistent performance and superior level of investment in Polycom specializations, and helps drive higher profitability for channel partners. The program emphasizes skills development, certification and specialization, and other value-added activities to help partners meet users' needs, expand mindshare, and increase customer loyalty.
The companies listed in CRN's 2013 Partner Program Guide represent a comprehensive list of the best channel programs in the market today," said Kelley Damore, senior vice president and editorial director, for UBM Tech Channel's CRN. "The 5-star award is reserved for vendors, such as Polycom, that understand a successful partnership does not rely solely on the technology. By offering their partners tools, education and regular updates, vendors on this list go above and beyond traditional support to ensure a mutually beneficial partnership."
The Polycom Choice Partner Program has earned CRN's 5-star ranking four years straight because, unlike many typical partner programs, our goal is to make our channel partners not only better salespeople, but to become trusted partners who are highly valued by their customers," said Ron Myers, Polycom's Senior Vice President of Global Channels. "The Polycom Choice Partner Program equips our partners with superior tools, training and resources that enable them to excel in the trusted partner role."
The "CRN 2013 Partner Program Guide" will be featured on CRN.com and the 5-Star Partners listing will be highlighted in the March 2013 issue of CRN.
Share this story with your friends or work colleagues. If you want to stay up to date with our latest products, industry news and offers you can sign up to our monthly newsletters, keep up to date with us on Facebook or follow us on twitter @VoIPon.