Digium will attend CeBIT from the 5th to the 9th of March in Hannover, Germany. They will showcase their complete line of IP phones, gateways, telephony cards and redundancy appliances. With more than one million systems in use around the globe, Asterisk powers business phone systems for the majority of Fortune 1000 companies with more than one million systems in use around the globe. This includes small and midsize businesses, governments, telephony carriers and communications service providers. Digium representatives will be demonstrating the updated line of IP phones which now include expanded language support. This offers developers simple integration and easy installation with Asterisk-based VoIP systems.
You can visit Digium in the Allnet Deutschland booth, Hall 13, Stand C57 or the Starface booth, Hall 13, Stand C75.
Digium are the creators and primary sponsors of the Asterisk project. They offer a complete line of high quality analog and digital interface cards to connect your IP PBX, IVR, VoIp Gateway, or custom telephony solution to the public telephone network. They offer a range of card types including analog cards, PRI cards, BRI cards and transcoder cards. 
Digium IP phones are specifically engineered to fully leverage the power of Asterisk. Coupled with the Digium Phone Module for Asterisk (DPMA), a free add-on module which allows Asterisk to share rich information with Digium phones, users can access advanced applications directly from the phone's interface, enabling zero-touch provisioning. The Digium phones are far superior to any other SIP phone as the DPMA exposes Asterisk applications automatically to the phones without requiring additional scripting, allowing setup to occur in one place in Asterisk, therefore saving time on installations for integrators. Existing Asterisk phone applications include visual voicemail, real-time presence, integrated call parking, one-touch recording, a searchable directory for contacts and detailed call queues. In addition, custom applications can be developed to run on the Digium phones through an integrated JavaScript API, which is currently in beta, and provides users powerful custom solutions to increase their productivity.
Digium phones provide users a distinct advantage when they are connecting them to Asterisk – no other phone is this easy or secure to install," said David Hardy, director of business development for Digium. "And the Digium Phone Module for Asterisk and the JavaScript API give developers and customers what they have asked for – the ability to easily customize applications on the phones that interface directly with core Asterisk features. In addition, when using the Digium phones, users now have the ability to see user presence with Asterisk."
Demonstrations will also highlight the new addition of language and localization support in the IP phones including UK English, Dutch, French, German, Italian, Spanish and Portuguese.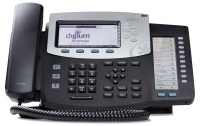 The Digium phones include the following models:
D70 – An executive-level HD IP phone with 6-line keys and 10 rapid dial/busy lamp field (BLF) keys and real-time status information displayed on an additional LCD screen, allowing users to quickly navigate through up to 100 of their most important contacts. Designed for administrators or executives, the D70 offers top-of-the-line features.
D50 – A mid-level HD IP phone with 4-line keys and 10 rapid dial/BLF keys with an easy-to-print paper label strip for the user's most important contacts. This model is ideal for users who spend a lot of time on the phone.
D40 – An entry-level HD IP phone with 2-line keys. This is Digium's best value phone, designed for any employee in the company. 
Today, Asterisk is deployed in more than 170 countries worldwide and Digium has been recognized as a global growth leader in Unified Communications," said Steve Harvey, vice president of global sales for Digium. "Expanding the market for the Digium phones emphasizes our overall company strategy to support our global customers. Users throughout Europe, Australia, South and Central America, Africa and many other regions will be able integrate Asterisk with Digium phones that are truly designed for a better user experience."
Share this story with your friends or work colleagues. If you want to stay up to date with our latest products, industry news and offers you can sign up to our monthly newsletters, keep up to date with us on Facebook or follow us on twitter @VoIPon.