Ventelo, a Germany-based Internet Telephony Service Provider offering affordable VoIP services on the Internet, cellular networks or traditional fixed networks, and Grandstream Networks, the leading manufacturer of IP voice/video telephony and IP video surveillance solutions, today jointly announce that Grandstream's GXP IP Desktop Telephones have been tested and certified interoperable with Ventelo's VoIP service "Ventengo". Interoperability ensures that customers can easily and cost-effectively implement Grandstream's GXP Series of SIP Telephones, including the new GXP2200 Enterprise Application Phone for Android, with Ventengo's VoIP services to take advantage of advanced VoIP telephony features.
"We're pleased to announce interoperability of Ventengo with Grandstream's SIP Phones", said Dietmar Becker, Managing Director at Ventelo GmbH. "Thereby another major brand of IP-Phones has been
successfully tested on our Ventengo platform."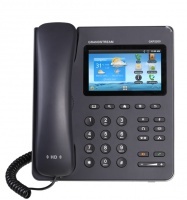 Grandstream's GXP Series of SIP telephones provides affordability, best-in-class HD audio, a comprehensive set of advanced call features, multi-language support, security protection, simplified management and automated provisioning with TR-069 or HTTPS, advanced XML customization and more, and more. Over a dozen GXP phone models are available ranging from single line to executive 6- line HD phones with integrated PoE. The recently released Grandstream GXP2200 Enterprise Application Phone for Android, one of few desktop phones on the market based on the open source Android platform, offers businesses a high quality HD phone rich in telephony features while adding the ability to flexibly deploy, tailor and develop custom Android applications to improve business operations.
"Grandstream is pleased to announce the successful completion of interoperability testing between our award-winning GXP series of IP Phones and Ventengo's flexible VoIP services," said David Li, CEO of Grandstream. "Ventengo's customers can now confidently deploy Grandstream IP Phones to take advantage of the wealth of VoIP features included in all Grandstream IP phones, meanwhile Grandstream users in Germany can now benefit from Ventengo's comprehensive and flexible service offering.