As per Microsoft's requirement for a global service update, Yealink has released new firmware for its complete range of Skype for Business phones.
Microsoft will enable third-party applications and introduce OAuth 2.0 to ensure greater security.
This change is confined to 3PIP certified Skype for Business IP phones and requires the update of Microsoft server synchronisation for all 3PIP partners.
In order to ensure that end users can successfully sign in to the phones in question, administrators must complete the following steps before Microsoft's deadline: January 15, 2020
Step One
Admins will be asked to consent one time on behalf of the organization to grant the application the necessary permissions.
a) URL access:
CLICK HERE
b) Sign-in using the tenant admin account rather than as a user. Please note that only administrator accounts can grant the relevant permissions. Non-administrator account users will be forwarded to the Need Admin Approval Page.
c) When successful, the Device Login Page will recognize the device as a Yealink – Skype for Business Certified Phone.
d) Click Accept to grant all the required permissions on the below consent screen from Azure. Then, other users in the organisation can sign-in according to the typical Web Sign-in and there will be no need to re-grant any permissions.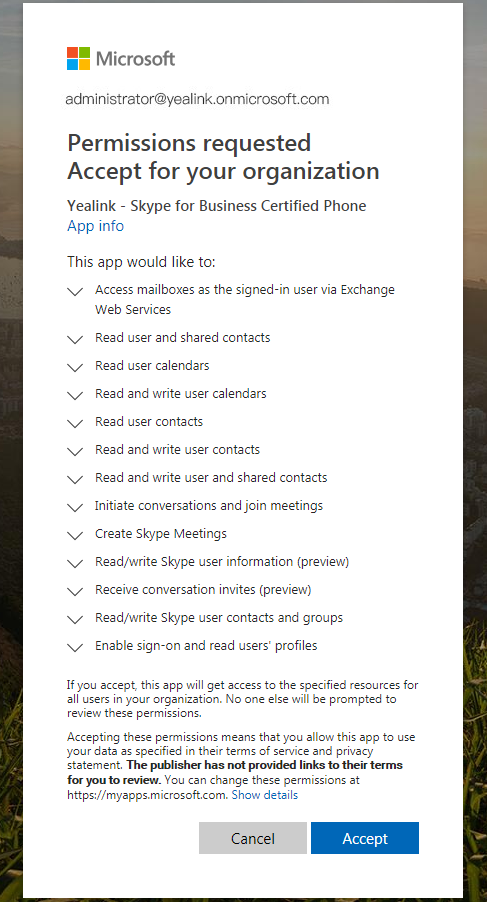 Step Two
Upgrade the firmware to the version that bundles the third-party application ID.