VoIPon Solutions distributor of Digium Switchvox, Asterisk and Digium VoIP Phones are pleased to announce that they have been named as a winner of Digium's Pinnacle Partner Awards for 2012.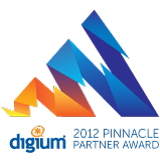 The Digium Pinnacle Partner awards are presented annually to Digium's leading partners who have excelled in developing and growing their partnership with Digium and driving customer success for either Switchvox Business Communications Solutions or Asterisk Custom Communications Solutions.
Digium is committed to the growth of our channel partners and we are excited for the opportunity to recognize those companies who are dedicated to growing our businesses, together, said Jim Butler, director of worldwide channel sales for Digium.