Sangoma Technologies Corporation (TSX VENTURE:STC), a leading provider of hardware and software components that enable or enhance IP Communications Systems for both voice and data, today announced the release of its NetBorder Transcoding Sangoma Gateway, the latest product in the growing range of VoIP gateway appliances to serve enterprises worldwide. This new gateway facilitates the interconnection of Voice over IP (VoIP) devices and networks with support for transcoding between a wide range of codecs-from low-bandwidth to High Definition (HD)-that are employed throughout the rapidly growing enterprise communications landscape.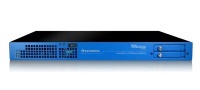 The new Sangoma NetBorder Transcoding Gateway provides bandwidth savings in interoffice VoIP and SIP trunking deployments with support for narrowband G.723.1 and G.729 codecs. Additionally, the appliance enables seamless connections between various SIP implementations such as those using different RTP packet sizes. The models include: Sangoma NetBorder Transcoding Gateway Appliance 400 Sessions NTG-AP0400 ,  Sangoma NetBorder Transcoding Gateway Appliance – 800 Sessions NTG-AP0800, Sangoma NetBorder Transcoding Gateway Appliance – 1200 Sessions NTG-AP1200, Sangoma NetBorder Transcoding Gateway Appliance – 1600 Sessions NTG-AP1600, Sangoma NetBorder Transcoding Gateway Appliance – 2000 Sessions NTG-AP2000 and the Sangoma NetBorder Transcoding Gateway Appliance – 4000 Sessions NTG-AP4000.
Beyond delivering bandwidth efficiency, the Transcoding Gateway offers many options for consistently high voice quality. In addition to the wide variety of narrowband codecs, support for HD voice codecs such as G.722 and G.722.1 makes it possible for HD and non-HD compliant devices to interoperate. On networks that are susceptible to packet loss, and the attending degradation of voice quality, more resilient codecs such as iLBC can be used to improve the performance and deliver solid call quality.
Sangoma have also released Sangoma Transcoding Gateway Appliance software. The option of an ISO software package can be installed on any server with a Sangoma D500.
Available as a 1U appliance, the NetBorder Transcoding Gateway allows transcoding between any supported codec from a wide range including, iLBC, GSM-FR and as well as all common SIP and HD voice formats. These can be selected on a per call basis allowing for complete flexibility and the gateway can support up to 4000 simultaneous SIP sessions. The appliance provides very low latency processing to ensure low-jitter and excellent call quality.
Transcoding operations are very processor intensive and can completely cripple other functionalities in typical server based systems, The use of a dedicated appliance mitigates these potential impacts and efficiently delivers the transcoding that is becoming ever more necessary as users take advantage of the benefits offered by the latest codec technology today and going forward." said Julien Nephtali, product manager for Sangoma.