Sangoma Technologies have announced the company's director of marketing, Jeff Dworkin,will speak at the IP Possibilities Conference & Expo 2013. The event will take place from the 16th of April through to the 18th, 2013 at the Hyatt Regency Hotel in Minneapolis, Minnesota.
Sangoma offer a conclusive range of VoIP Gateways and Asterisk Cards. Recently, Sangoma have unveiled their T116 Tapping Board that supports the passive tapping of up to 240 voice calls using up to 16 T1, E1 or J1 lines.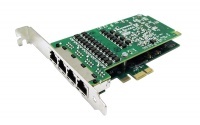 Dworkin will join a panel of telecommunications experts in the session "Implications of IP to IP Interconnection: Policy vs. Technical Considerations", which examines issues facing service providers as they expand deployments of IP technology and infrastructure. The session is slated for Wednesday, April 17, 2013 at 1:00 pm. In his remarks, Dworkin will discuss the technical challenges of interconnecting IP networks, applications, and platforms, and will provide tactical strategies for mitigating interconnection hurdles. Among the solutions that he will highlight is the ever-present need for Session Border Controllers (SBC) to manage the interconnection of disparate IP systems and networks.
Although most manufacturers and providers have standardized on the Session Initiation Protocol (SIP) for Voice over IP (VoIP) solutions, there are so many variants of SIP in the marketplace that interoperation is almost never assured without an SBC to manage the differences in disparate versions of SIP," noted Dworkin. "An SBC can seamlessly adjust the IP signaling and media stream to make all of the pieces in the VoIP call work together. The SBC also adds additional functions of security and quality of service management to a SIP implementation."
Dworkin will also address the need for integration of IP services with the existing Public Switched Telephone Network (PSTN). Using examples from a common enterprise implementation that employs a combination of IP and TDM connections to the rest of the world, he will provide the audience with practical options for service deployment that use both media and signaling gateway technology.
While the telecommunications regulatory landscape for IP is still a work in progress, service providers are delivering SIP Trunking and SIP-based services to customers every day," said David Lowe, NTCA innovation and technology manager, and program chair for IP Possibilities. "We are very pleased to have assembled a panel of IP experts that can provide our attendees with practical advice and tactical solutions that can help local operating companies ensure that their customers will enjoy IP services with the level of quality and reliability customers have come to expect for decades."
Share this story with your friends or work colleagues. If you want to stay up to date with our latest products, industry news and offers you can sign up to our monthly newsletters, keep up to date with us on Facebook or follow us on twitter @VoIPon.