With this new firmware, users can now choose to connect an SOS button instead of a doorbell at the door to a flat, to a 2N answering unit.
The SOS button is for use in emergencies, such as sudden health problems. The system is set to interrupt any calls so that the emergency call can be connected immediately. The emergency call has the greatest priority, after all. Administrators can select which device to direct this call to.
You can use this feature, for example, at a residential care home. The resident simply presses the SOS button installed in a suitable location, such as next to their bed. This button is connected to the 2N Indoor Talk, which the resident has fitted somewhere in their flat. It immediately initiates a call to a 2N Indoor Compact unit located in the nurse's room. Calls are not necessarily directed just between answering units. The call can just as easily be directed to an IP telephone or a 2N intercom on the local network.
2N have also thought of situations when informing a person in a different building about the emergency is important. Both of the 2N devices are simply connected to the network through the My2N cloud service. The resident's call can be put through to as many as 16 locations.
Don't hesitate to download the new firmware 2.28 for the 2N Indoor Talk and 2N Indoor Compact.
The 2N Indoor Talk uses a HD audio codec and innovative speaker output design, which allows it to achieve a high volume and excellent audio clarity. Use the 2N Indoor Talk to make calls to not only a 2N IP intercom, but to other corresponding answering units in your home, or to reception in your apartment building. In addition, it's easy to prevent your children from accidentally letting strangers into your home when playing. Simply press and hold the buttons to activate a parental lock.
The 2N Indoor Compact is an indoor answering unit designed especially for the residential market. Installation by connecting a single UTP cable and configuration via a web interface guarantees that integrators can put the unit into operation quickly and easily. Users will be impressed by the minimalist design, tempered glass surface, 4.3″ colour display and intuitive controls. A simply elegant solution for video communication.
Intuitive controls, even for inexperienced users
Designer surface made of tempered glass
Configuration via a web interface
4.3″ colour display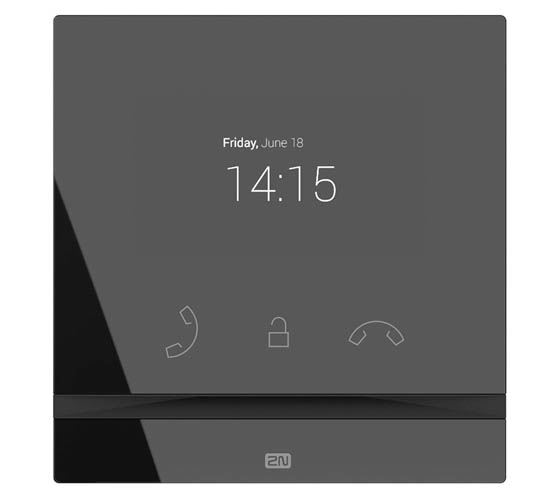 Want to expand your communications solution further? Check out the full range of 2N products below! If you have any specific requirements, please contact our technical sales team on +44 330 088 0195.
Check out the original post by 2N here