Xorcom have just released a new version of our low-end appliance, the XR1000. Upgraded hardware in the new version allows each model in the series to support up to 50 users and 10 concurrent calls, irrespective of the codec used. Powered by a Celeron 1.2 GHz processor and featuring a 4GB Single Layer Cell (SLC) Disk on Module (DOM) for mass storage, the unit is pre-loaded with the Elastix™ Asterisk distribution.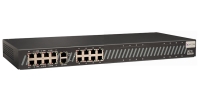 Upgraded XR1000 Series Features New Graphics and Mechanical Design
In addition, the graphic design has been updated with a more modern look. The new dual-purpose chassis will simplify inventory for our partners that assemble units in-house.