Yeastar announce that a new firmware version for S-Series VoIP PBX (v30.12.0.7) has been released!
This latest update is jam-packed full of bug fixes, improvements and a few brand-new features to enable an easier, faster and more unified communication experience. Included, you will find upgraded system stability, optimised call parking destination settings, added support for SRTP settings on SIP Peer Trunk, and more.
Embrace more unified office communications with Yeastar PBX and Zoho Integration! This latest update introduces the brand-new Zoho Integration App in S-Series VoIP PBX* App Center to facilitate a quick integration between your Yeastar PBX and multiple Zoho applications. With the App, you'll be able to enjoy:
One-for-all Integration: connect your PBX with Zoho One, Zoho CRM, Zoho Mail, Zoho Recruit and Zoho Desk at one time, in one simple integration. There's no need for any painful API settings, just follow a step-to-step guide and complete the integration easily in minutes.
Click-to-call: click on any phone number to make a call right inside Zoho.
Call Pop-ups: get caller insights instantly with screen pop-ups that display your contact info whenever they call you.
Call Journals: all call details will be automatically logged in Zoho to help you keep track of every conversation.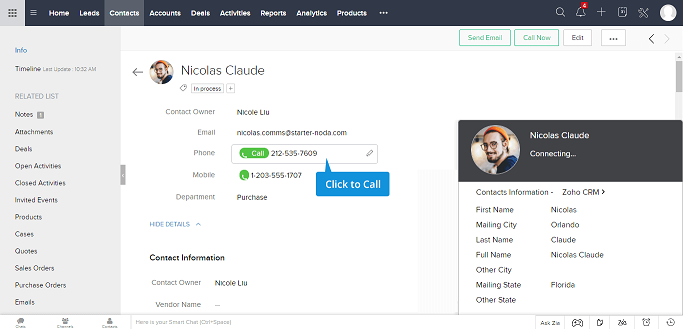 *In this beta release, the Zoho Integration App will be only supported on the S-Series PBX (S50, S100, S300) and the support for Yeastar Cloud PBX will be coming soon. During the beta test, users can enjoy a 30-day free trial for the App or contact Yeastar for a free license.
You can find more information about the App and its configuration on this 5-min video guide
or check out the Zoho Integration Guide.
Besides what has been mentioned above, they also made a number of enhancements to deliver improved usability for the S-Series VoIP PBX.
System Stability: optimised the mechanism of applying configuration changes. You don't need to click Apply button to reload Asterisk if you save unchanged configurations.
Recording Notifications: Added support for configuring different recording notifications for Internal, inbound, outbound, and callback calls.
Call Parking: added support for configuring timeout destination for call parking.
Trunk: added Enable SRTP settings on the SIP Peer Trunk.
Extension: fixed the issue that the web page would get stuck if the number of the extensions you created was beyond the defined extension range.
SIP Settings: optimised Session Timer settings. If the Session Timer is enabled, the Session-Expires (s) field and Min-SE (s) field are required.
Custom Reset options: added support for configuring Reset options in S-Series, which allows you to choose whether to keep CDR and recording files, backup files, prompt files, PBX's IP address in the PBX reset.
FXS Hotline: added Hotline feature on FXS extension for S-Series PBX.
There are more optimisation and bug fixes on auto recording, call transfer, queue, CDR, prompt, billing, etc. For more info and details, please refer to the release notes for S-Series VoIP PBX.
Check out Yeastar products below! If you have any specific requirements, please contact our technical sales team on +44 330 088 0195.
Check out the original post from Yeastar HERE