2N has announced a new version of its access commander software – 1.12. This software will be even faster and more secure, and can be used for installations with 10,000 residents. Smooth and easy use for the administrator, as well as new functions to enhance your security solution.
Use 2N Access Commander in even the largest installations
With software version 1.12, you can upload up to 10,000 users into IP intercoms or access control units directly from 2N® Access Commander. So, you can use 2N Access Commander for really big installations with up to 10,000 residents or employees.
No Delays in Synchronisation
The moment the administrator adds users to 2N Access Commander software, the change is automatically duplicated in the respective devices. With no delay in synchronisation. This means that the user can enter areas for which he/she is authorised and can also be called immediately after being added to the system.
Another step towards more in-depth integration with third-party systems
Some third-party systems are unable to process an identifier in the form of a fingerprint or mobile phone sent from a 2N device. 2N® Access Commander 1.12 offers Virtual Card ID, an alternative identifier, thanks to which third-party systems will recognise the user and allow him/her access.
Simpler setup of calls to several users from 2N® Access Commander
By pressing the quick dial button on the intercom, several users can be called at the same time. You are already familiar with this function from the web interface for IP intercoms. The administrator can now perform this setup for several devices directly from 2N® Access Commander software.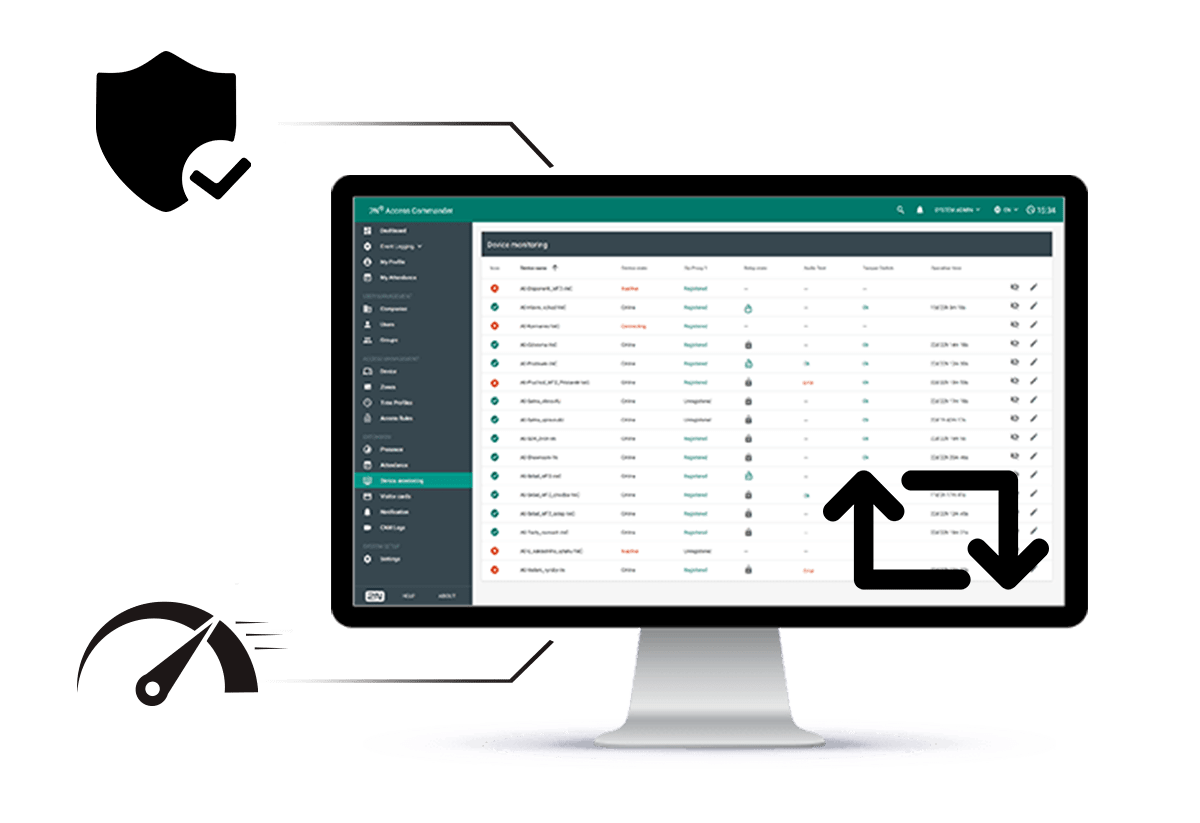 Offer a silent alarm function to system administrators
This function has also been standard for some time in the configuration of intercoms via the web interface. A silent alarm can now be set for a PIN and fingerprint in bulk in 2N Access Commander. Each user can be allocated a special PIN code or can upload a selected finger, which is subsequently used to activate the silent alarm. This opens the door to the building, but at the same time performs another operation, when an HTTP command is sent or a specific relay is switched, informing security of the danger which has arisen
Better Overview of who Opened the Door
Thanks to access logs, the administrator can see who entered the building and when at which location and the manner in which he/she identified himself/herself. In the event of an incident, the administrator can now trace which employee opened the door for the visitor remotely from his/her telephone using a DTMF code.
Even Faster Software Response
2N have fundamentally improved the speed and stability of the software. Thanks to the transition to a new platform (.NET Core), the administrator can look forward to a much faster response to individual operations.
EXPAND YOUR SOLUTION
Check out the full range of 2N products below! If you have any specific requirements, please contact our technical sales team on +44 330 088 0195
Check out the full story from 2N HERE