In a move that could potentially change the competitive landscape of the IP PBX market for SMBs (small to mid-sized businesses), Grandstream Networks, the leading manufacturer of IP voice/video telephony and video surveillance solutions, entered the race today by announcing the availability of the UCM6100 series IP PBX appliance. The UCM6100 series incorporates advanced voice, video, data, and mobility features typically found in expensive IP PBX systems for larger enterprises but offers them in an innovative, extremely easy to use fashion at a potentially disruptive market-leading price point for the SMB market.
The UCM6100 Series features four models, including the UCM6102, UCM6104, UCM6108 and UCM 6116.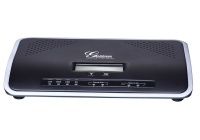 Based upon an enhanced version of the popular open source Asterisk platform, Grandstream's UCM6100 series is a powerful IP PBX appliance that supports up to 500 users, 60 concurrent calls, 6 conference bridges, and 32 conference participants. It features Gigabit network port(s) with integrated PoE, up to 50 SIP trunk accounts with flexible call routing control, 2-16 FXO ports for legacy PSTN trunk lines, 2 FXS ports for fax or analog phones, large 4GB onboard Flash memory for voicemail, electronic fax, call recording, personalized music-on-hold, and virtually unlimited peering for multi-site deployment.
By leveraging its automated discovery and Zero Configuration smart provisioning of various SIP endpoints (such as IP phones, IP cameras, etc.), resellers, installers, and SMB end-users can quickly and easily install and operate this VoIP business phone system with little training. The UCM6100 has broad SIP interoperability with major Internet telephony service providers and SIP trunk providers, as well as the vast majority of SIP phones and other SIP devices on the market, including Grandstream's complete line of IP Phones and IP Video Cameras.
UCM6100 Series IP PBX Appliance Features
Voice – customizable IVR/Auto Attendant with multi-language voice prompts, Call Recording, Ring  Group/Hunt Group, personalized Music-on-Hold, Flexible Dial Plan, Call Routing, Call Queue, Intercom/Paging, Click to Dial, Call Forward, Do Not Disturb, Busy Lamp Field, Shared Line Appearance (pending), multi-party conferencing, comprehensive codec support including G.711, G.722, G.729, G.723, G.726, iLBC, and any-to-any voice codec transcoding 
Video – Real-time video calling with SIP video phones/smart phones/PCs, integration with SIP video surveillance cameras and door cameras, 2-way audio to/from SIP video cameras
Data – voicemail-to-email, Fax-to-email, personalized music-on-hold, integrated LDAP server for corporate phonebook directory, integrated NTP server, call detail reports (CDR) exportable in various formats & API, advanced security & access control, system backup/restore, zero-configuration smart auto-provisioning of endpoints, Web based central control panel for real-time system & device management, multi-language support 
Mobility – direct extension calling by road warriors, remote workers or mobile workers using softphone apps on smart phones/laptops and cordless DECT IP phones (such as Grandstream's DP715/710)
Alaa Saayed, Sr. Industry Analyst and ICT Team Leader – Unified Communications, Frost & Sullivan
SMBs are increasingly aware that IP communications is the only road to fully take advantage of various forms of communications applications and UC technologies. IP and open IP standards, such as Asterisk Open Source and SIP, allow businesses to interoperate with a larger array of third-party applications and solutions to foster a true unified multi-media, multi-party, and multi-device communications environment for better productivity and end user experience. The availability of cost-effective and feature-rich single server solutions, such as Grandstream's UCM6100 series IP PBX appliance, facilitates the decision of many SMBs to migrate to IP communications, while providing a get-started solution for UC implementations."
Thiago Lima, IT Consultant with Brazilian-based TDSiS
We're very impressed with the performance of Grandstream's UCM6100 series IP PBX appliance. The new solutions-based IP PBX contains a comprehensive feature set that is very easy to setup and manage — allowing resellers and IT staff more flexibility with their time. Unique features we see as very beneficial are the LDAP phone book integration, advanced IVR, call-routing options and advanced troubleshooting tools – all of which are rarely found in such compact IP-PBX appliances. With no licensing fees or recurring costs, we feel it's one of the most affordable and effective IP PBXs on the market."
David Li, CEO of Grandstream
I am very excited about the introduction of our new UCM6100 series IP PBX which is specifically designed for SMBs looking for a modern, competitive, and easy-to use VoIP phone system without the burdening licensing fees, recurring cost and complexity associated with other premise based or hosted IP PBX solutions. This product announcement reaffirms our commitment of being a leading unified communications and security protection solution supplier with complete end-to-end product portfolio for the SMB market."
Share this story with your friends or work colleagues. If you want to stay up to date with our latest products, industry news and offers you can sign up to our monthly newsletters, keep up to date with us on Facebook or follow us on twitter @VoIPon.