When looking at how to grow your business in 2019, a new business phone system may not be the first method to jump to mind. However, there are many benefits to switching to a VoIP (Voice over Internet Protocol) Phone system, such as savings ranging from 50 to 75%.
This article will give an overview to help effectively switch to a VoIP phone system.
How business phone systems work
When the public first started using phones, they used a process called Public Switched Telephone Network (PSTN), with only one line running to a third party operator who would have to connect the caller to the recipient, and then was later updated to touch-tone buttons.
However, when a transceiver was created in the 1990s, the ability for an internet phone service and VoIP was created.
Digium's open source software, Asterisk, has made VoIP accessible to businesses of all sizes and has changed the world of communication.  Having a VoIP phone system essentially allows businesses to utilise modern data networks and communicated via internet protocols.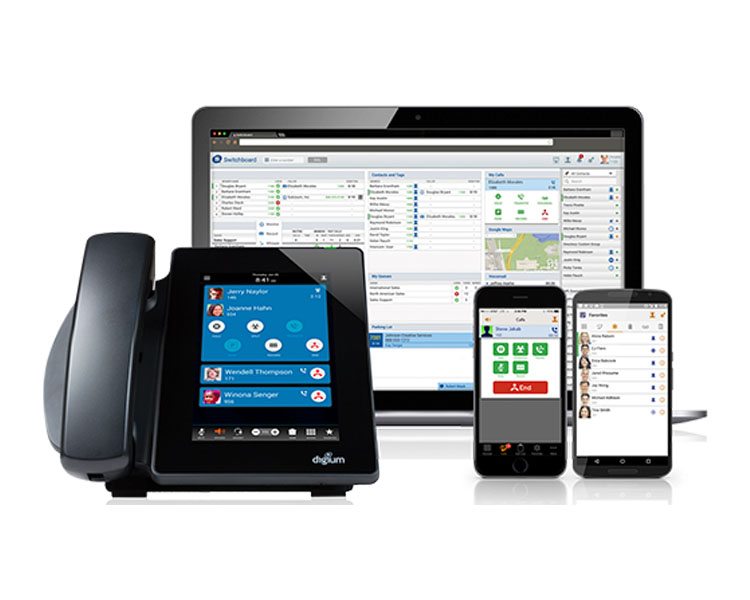 Benefits of VoIP
Cost savings:

VoIP systems are more cost effective for both long distance and local calls. Businesses can all save money through cloud-based VoIP phones as they require minimal hardware and set up costs.

Mobility:

VoIP systems can be accessed wherever there is an internet connection.

Flexibility:

With a VoIP system, because it uses an internet connection, you may easily expand or reduce resources dependant on your organisation's needs

Better Connectivity:

Features such as calls being sent to different locations to find you before it is sent to voicemail, and the ability to transcribe voicemails and send them to you in a voicemail are included in VoIP systems.
Types of VoIP Phone Systems
Hosted (or Cloud) Phone System: Ideal for small businesses or startup, this VoIP system has lower start-up costs whilst still including all UC features such call control, collaboration, mobility, call management and more.
On-Premise Phone System:  If your organisation has IT resources available and a need to control your business phone solution, then on-premise could be more beneficial for you. It may be more to set up with more unknown maintenance costs, however, there is no risk of fee increases. This system also offers all UC features.
Virtualisation: A virtualised business phone system is basically an on-premise VoIP phone system, except instead of having one server for each technology used within a business, virtualization allows you to use one server with virtualisation software that is capable of running multiple applications and operating systems at the same time on that one serve. It is suitable for all size businesses and can save money for them, as instead of having individual servers for each function, it is all on one.
Business phone system pricing
It can be difficult to determine a price for a VoIP phone system without having some details about the business, however, to help you gain a better idea, you can use Digium's ROI Calculator.
For a detailed buying guide for VoIP phone systems, see Digium's original post HERE