Sangoma Technologies has announced the expansion to its award-winning Lync Express series of all-in-one VoIP Gateway appliances with the release of Lync Express 2.0. The Lync Express solution integrates all the hardware and software elements necessary for a complete deployment of Microsoft Lync as a PBX replacement, or a wide range of other use cases including Survivable Branch Exchange, Office 365 telephony support, and legacy PBX integration. Lync Express 2.0 adds new models that scale up to 1000 Lync seats, includes certification with Lync 2013, and incorporates a full-featured Session Border Controller (SBC) for deployments using SIP trunks.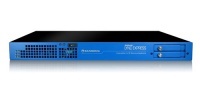 In the convergence of Unified Communications (UC) application platforms like Microsoft Lync and traditional Public Switched Telephone Network (PSTN) interworking, an all-in-one product like Lync Express bridges any technology gap for enterprises and system integrators looking to deploy a comprehensive UC and PBX replacement solution," said Mark Wagner, Sangoma vice president of carrier and UC sales. "The inclusion of a robust SBC within Lync Express further simplifies the use of combined SIP Trunks and traditional PSTN connections to ensure communication resiliency and manage operational costs. For Microsoft partners that may be less familiar with traditional telephony, the unique all-in-one design of Lync Express makes it easy to deliver a turnkey Lync solution."
Lync Express is an integrated appliance that provides the core capabilities needed in any Lync deployment, and is available worldwide through Sangoma partners and select Microsoft Gold Partners. The solution incorporates the Microsoft Windows server, Microsoft Lync 2013 server, together with Sangoma's SBC and VoIP gateway. The rack-mountable unit is available in a variety of configurations to support PSTN connections, including E1/T1/J1 compliant digital telephony spans, ISDN Basic Rate connections, and FXO or FXS line connections for any legacy emergency phone or fax requirements. Lync Express is fully certified with Microsoft Lync 2013 and supporting services, and remains the only fully integrated Lync PBX replacement product in the market.
In the UK market we are seeing a significant uplift in requests for Lync due to rising interest in UC features like IM, presence and screen sharing," said Annette Reynolds, head of unified communications, Ingram Micro UK. "Sangoma's Lync Express makes it simple to provide these capabilities, and a vast array of other features and services, in multiple deployment scenarios spanning PBX replacement, survivable branch exchange implementations, integration of legacy and VoIP networks, and the adoption of Office365 by enterprises large and small. The all-in-one nature of Lync Express is a unique offering that makes things very easy for channel partners like Ingram Micro to deploy and support Lync through our resellers."
Share this story with your friends or work colleagues.  If you want to stay up to date with our latest products, industry news and offers you can sign up to our monthly newsletters, keep up to date with us on Facebook or follow us on twitter @VoIPon.