Sangoma will highlight several advanced networking and communications technologies and applications in a newly redesigned exhibit space at the ITEXPO Miami 2013 Conference. The event will take place at the Miami Beach Convention Center in Miami Beach, Florida from January 30 through February 1, 2013. Sangoma will be located in booth #501 throughout the exhibition.
Highlighting the event will be Sangoma's introduction of its new line of Session Border Controller products, which are targeted to serve the needs of both service providers and enterprise customers. Sangoma will also showcase its 2012 INTERNET TELEPHONY Product of the Year, the NetBorder Lync Express, the only all-in-one Lync server appliance with a built-in VoIP Gateway. In addition, the company will also exhibit a number of other technologies, including its highly-regarded award-winning telephony board products.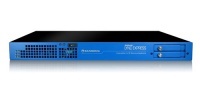 We are very pleased that our company is taking an active role at ITEXPO to demonstrate how innovative solutions can have a very tangible impact on network performance and operations," said Doug Vilim, Sangoma's vice president of worldwide sales. "The launch of the new SBC family, combined with the successes of Lync Express and our other products, will help reinforce Sangoma's commitment to serving an ever-changing market. ITEXPO gives us-and our partners throughout the world-a unique opportunity to share our vision and successes firsthand with our primary audiences. We have every expectation that our products and offerings will continue to fuel the growth and success of the company and will be very well-received."
"Sangoma has seen significant market-share growth throughout the Central and Latin American regions that has been bolstered by many of the partners that are participating in ITEXPO," said Ernesto Casas, Sangoma director of sales for Central America and Latin America. "For example, Argentina-based Denwa serves the entire South and Central American region with innovative next-generation communications solutions that rely almost exclusively on Sangoma hardware and software. We are very excited to continue to build momentum in this region by strengthening our partnerships with leading solution providers."
"We are delighted that Sangoma has chosen ITEXPO to introduce its new Session Border Controller products," said Dave Rodriquez, president of Technology Marketing Corporation. "Sangoma continues to bring fresh and dynamic ideas to the communications industry, and we anticipate that our audience will once again benefit a great deal from their participation."
Share this story with your friends or work colleagues.  If you want to stay up to date with our latest products, industry news and offers you can sign up to our monthly newsletters, keep up to date with us on Facebook or follow us on twitter @VoIPon.